Available for: $315,000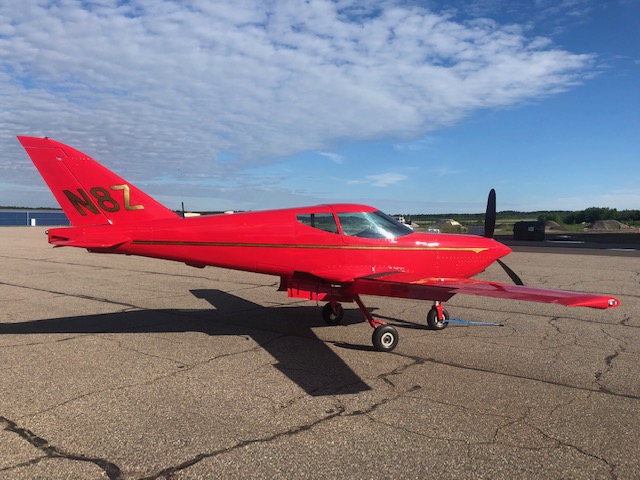 TTAF&E: 342.1
NO DAMAGE HISTORY
This aircraft has completed a total refurbishment.
It was completely disassembled almost to the point of being down to rivets. Essentially the only parts that remained in the fuselage were good control cables and aluminum hydraulic lines. All parts were stripped of old paint (including the engine mount) and properly prepared for new finish. The following is a partial list of work completed:
All new hydraulic, oil and fuel hoses
All new wiring (28 volt system)
New main gear trunnions
New high pressure main gear gas springs
New nose gear gas spring and all new gear coil springs
Redesigned canopy latching system
New LED nav/strobe lights, beacon and interior lighting
New B&C back-up alternator system
New B&C main alternator regulator
Overhauled fuel ignition servo
Overhauled magnetos
Overhauled propeller (8/8/2013)
New tires and brakes
Main landing gear overhauled by Doug Poli
New Advanced Flight Systems 4500 series EFIS and engine monitoring system
New PMA 8000 audio panel
Factory rebuilt GNS-430
New GTX-335 transponder
SL-40 #2 nav
A.F. TruTrak flat pack auto pilot
ADS-B in and out
All new switches, circuit breakers, light dimmers
Standard mic and phone jacks, plus powered Bose plugs
New Artex 345 ELT
Exterior Paint: PPG Delfleet Hot Rod Red
The engine was overhauled by Barrett Performance Aircraft
Dynamometer test:
322 HP @ 2700 RPM
334 HP @ 2850 RPM
Easily removable auxiliary fuel tank in baggage compartment (approximately 12 gallons). Pump control on upper right panel. Note: It would be difficult to find an aircraft refurbishment more extensive than this one. Countless hours attending to details and maintenance.
This aircraft includes a COMPLETE empennage kit (partially built) and wing kit.
For more information, contact: Joe Schumacher 715-528-4489
Joe Schumacher has built or restored more than 40 aircraft in the last 35+ years, including building three SX-300s and restoring two. On the list are many of Van's RV's. He wouldwelcome any serious buyers to visit his shop near Iron Mountain, MI (IMT), in order to see this project in process as it nears completion. There are good connections through Minneapolis via Delta Airlines (rental cars available in IMT) or through Green Bay, WI, about a two hour drive to his shop in Florence, WI.
Pictures of work in progress: